We are offering clients the option to consider sustainable products when it comes to marketing their businesses. We have worked with our suppliers to develop a range of eco-friendly print products and working practices to help businesses reduce their environmental impact. Each product's materials are sustainable, with a selection of recyclable and recycled fibres or certified FSC® standards. But we have taken this further and we are pleased to announce the range now covers display products.
Our range of sustainable print marketing products
Small Format Print
Postcards
Flyers
Letterheads
Menus
Placemats
Business Cards
Bound Books
Postal Boxes
Gift Cards
Wrapping Paper
Loyalty Cards
Display Print
Banners
Display Boards
Roller Banners
Signs
Posters
Exhibition Panels
Point of Sale
Wall Art
Estate Agents Boards
Corporate Events
Acting sustainably as a business is a balance between product selection and cost. Furthermore, it's difficult to find a product that is completely sustainable in the materials and processes used throughout its lifecycle. Our range of products is a definite start for businesses wanting to do what they can to be as sustainable as possible.
Most of us have been aware of recycled paper and those complying with FSC® standards for a while but when it comes display products, things have not been available – until now.
Take a PVC Banner: great for promoting an event but full of heavy metals like lead and phthalates which makes it difficult to recycle. For a short-term marketing campaign, it's more likely to go to landfill.
That's why we now offer PVC Free Banner material. There is no compromise in image quality and it's less harmful to the environment as it can be recycled. PCV free material is suitable for indoor and outdoor use and is great for Hanging Banners, Posters and Bunting. 
What about the printing?
Here again, print technology has also evolved and most of the display print products now use UV print system. But what does this mean? Unlike solvent printing, UV uses ink with fewer toxins and because of the heat drying process all the ink is used rather than being evaporated like solvent inks. Less drying time means less time wasted. What's more, modern processes now use LED UV lamps which consume considerably less energy than the traditional lamps that used quartz and inert gases mixed with mercury.
What about the supply chain?
All the promotional products in our sustainable range have been selected for more than just the materials they are made from. We've looked at how they are sourced, how green the production facilities are, and what happens to them after use. All our suppliers can give us technical data about their products, their supply chain and the manufacturing facilities. Please ask us for any of this if you'd like to know more.
As well as offering eco-friendly products, we do as much as we can to operate our small business in a sustainable way. We re-use our packaging. All our printed products can be picked up at our premises or shipped directly from our suppliers to our customers rather than coming to us first, minimising the journey time.
Will it cost more? 
The simple answer is Yes, these products are slightly more expensive but that is mainly down to current demand. If you are looking to do your bit towards a more sustainable future, it's well worth considering making the investment in these new products to replace more harmful alternatives.
We are delighted to be offering our clients the choice to adopt these products, but there is certainly no obligation as there are many definitions of what is and what is not sustainable. Look at the example of one of the most popular display products, the Roller Banner. This product has been the mainstay of nearly every campaign over the last 30 years. Light, portable, easy to use and with loads of impact, it transformed the visual communications landscape.
We offer three different options for sustainable roller banners, each with their own benefits.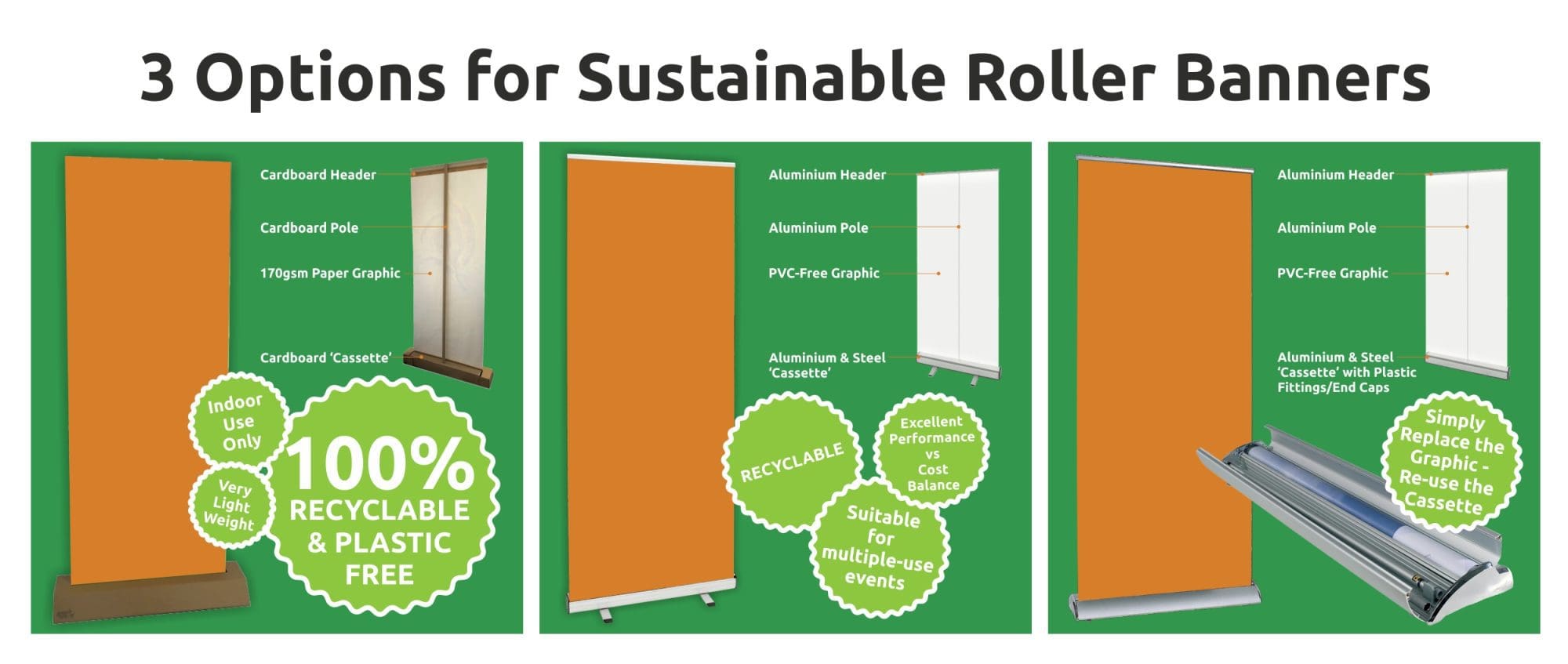 Choosing the best sustainable marketing products for your business depends on many factors, including where and how often they'll be used, traceability of materials and processes, and cost. We're always happy to discuss your requirements to help you make an informed choice.
If you want to talk about sustainable products for your business call us now on 01765 570072.