Attending and Exhibition or Conference is hard work… We all know that.
Your exhibition stand is a fairly important part of the whole exercise RIGHT! But it can be a proper pain to load it, unload it, lug it to your stand space and put it up. Having worked with clients for many years to make exhibiting a success, it is without a doubt that moment you come to break down your stand that real pain sets in. You have been on your feet for hours, sometimes days and they are throbbing from being stuffed into your best shoes and all you want to do is get home. Then it dawns on you that the Exhibition stand that has brought such admiration and loads of enquiries needs to come down…!
During the build-up, you lovingly spent time getting everything just right, moving this here and that there, tweaking and fussing before standing back and rightfully admiring your display skills. Now, you are dehydrated, your feet are killing you and all you want to do is stuff everything away and get the hell out of there.
Sorry if that gave flashbacks but if you have ever been there you know, this as we do and that's why we have done something about it.
OUR FABRIC DISPLAY SYSTEMS are quite simply BRILLIANT. Your aim is to give you more impact with less to carry and that's the whole point of a portable exhibition system, it's supposed to be portable. But we think it should also be simple too!
Look at the difference between a normal pop-up backwall and our fabric Curve 30… approximately the same display area is 22kgs lighter! + you can have your print on both sides,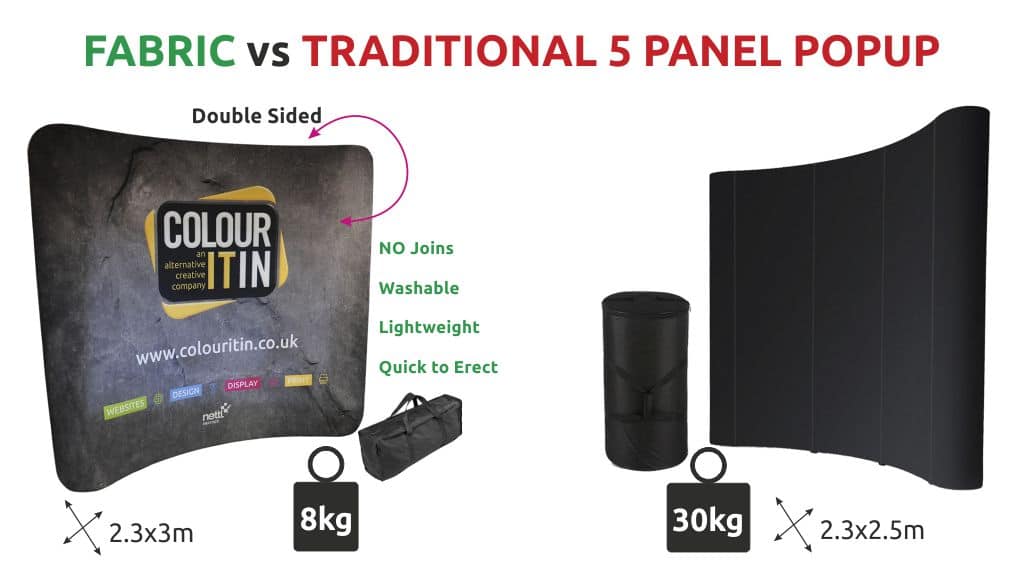 But it doesn't stop there… The Curve 30 was £489.00 but now has £100 OFF until the 21st December 2018*
Now, do you want one? Call now to order on 01765 570073 or email your order to sales@colouritin.co.uk 
*T's&C's apply, design costs not included